Unlike traditional vacuums that cost so much, the PowerPro cordless hand vacuum removes dust and crumbs from those hard-to-reach places in your car or home. The slim, powerful head of the cordless car vacuum also penetrates the crevices of upholstery or door gaps.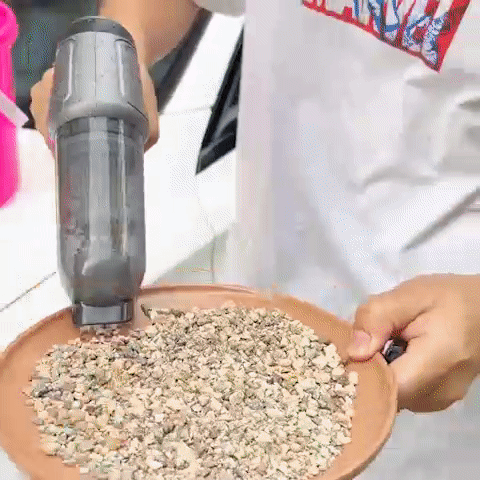 KEY FEATURES
Compact and portable

6000PA powerful suction and blower

Lightweight, one-hand operation

Cordless and rechargeable, more than 6 hours of battery life

Versatile use - vehicle, computer, home

Durable, washable filter 
Our soft brush head with 2 different heads makes cleaning glass, lamps or keyboards easy, without scratches or damage. Use the brush to loosen or scrub difficult spots and remove dirt.
Rechargeable and cordless, easy cleaning without cables or extension cords. The rechargeable battery has a life of more than 6 hours, so you can clean your vehicle on the road or in the driveway with ease.
Thanks to its light weight and compact design, you can store it in the glove compartment or in small spaces so that it doesn't fly around in the back seat. Plus, unlike bulky car wash vacuums, you can operate it with one hand.
Powerful suction Deep cleaning: Powerful suction 6000pa aluminium fan so resistant to wear and tear. Forget about dustpans and brooms and those pesky tight and dirty places you can't reach in your house, car or shed.
Lightweight and quiet: The ergonomic design is handheld, lightweight and comfortable to carry. Our car hoover reduces the noise level to up to 70 dB, effectively reducing noise during cleaning.
Battery life and fast charging: This rechargeable hoover has a Li-ion battery with a runtime of 25-30 minutes that can be fully charged in 2 hours. Our charging system also has over-voltage protection, over-voltage protection and over-temperature protection to ensure safety.
Washable and removable: The HEPA filter is washable and reusable to keep dust and dirt out and prevent clogging. Remove the filter from the dust container of the hoover, wash it with water and dry it before the second use. (Application tip: If the hoover's filter is full of dirt or only sucks weakly, clean the filter in time so that the hoover can work normally again).
Multifunctional accessories: The cordless hoover comes with a 2-in-1 brush and a USB charging cable so you can do everything you need to clean. Ideal for cleaning dust indoors such as car, bedroom, tent, sofa and other furniture.
Specifications:

Size: 16.5*14.5*4cm (approx.)
Weight: 365g
Battery: 2000 mAh
Suction power: 6000Pa